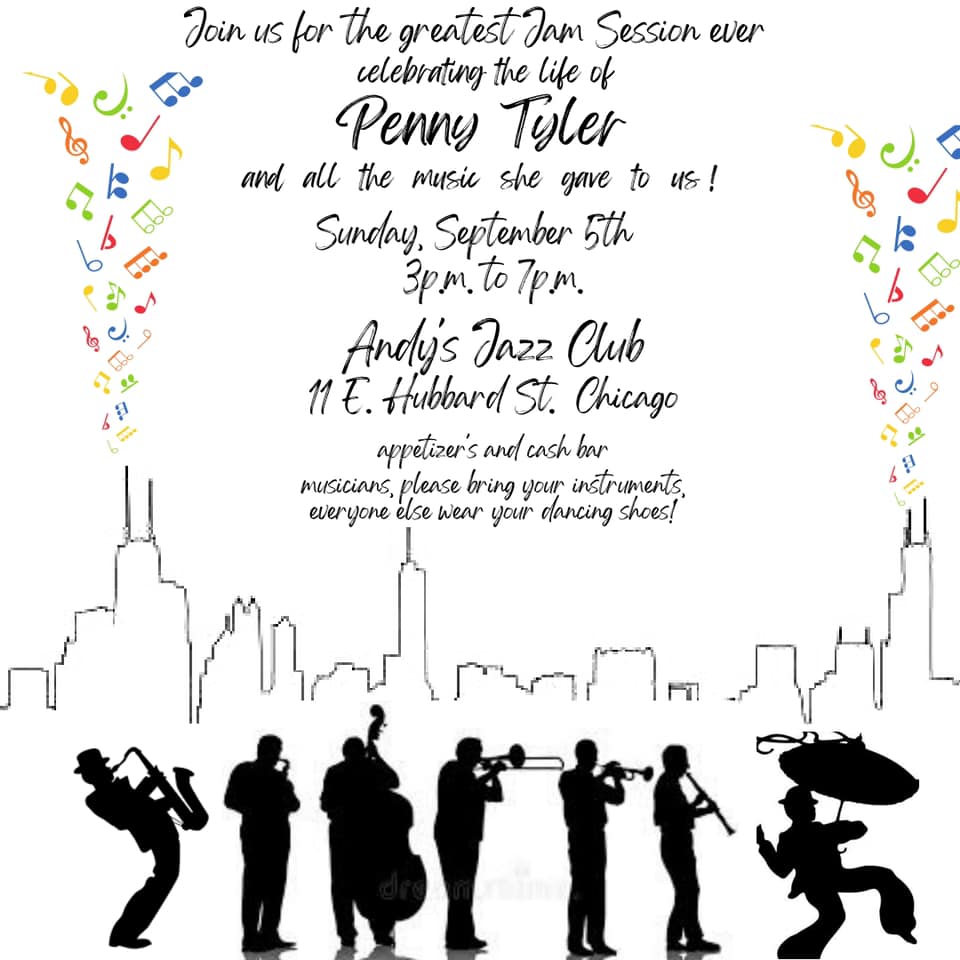 Time
2 Shows Available
3:00 pm - 7:00 pm
Cost
Free Admission
Celebrating The Life Of Penny Tyler
Showtimes:   3pm-4pm, 4:30pm-5:30pm & 6pm-7pm



We will be honoring the life and times of Penny Tyler on Sunday, September 5th from 3pm-7pm. Penny started "Jazz At Noon" at Andy's and booked/oversaw our initial evening performances that helped put us on the map worldwide.
Penny re-launched the Jazz Institute of Chicago, serving as their president, when she was asked by Mayor Byrne to book the very first Chicago Jazz Festival in 1979 on 3 weeks notice. That partnership with the mayors' office continued for decades. 
She consulted on bookings for Ravina's "Jazz In June" series as well as with Jazz At Symphony Center for years and years. Becoming known the world over for her Chicago Jazz Presentations.
Penny's devotion and love for this artform and our city ran deep. We hope you can come in for a hang, take in some tunes and share a story or two.
Hourly Schedule
Nightly Showtimes (3 Shows)
3pm

-

4pm

Jam Session Celebrating Penny Tyler

First Show
4:30pm

-

5:30pm

Jam Session Celebrating Penny Tyler

Second Show
6pm-7pm

-

Jam Session Celebrating Penny Tyler

Third Show